Stump Grinding in Ayrshire
If You need a stump grinding out then you've come to the right place. We use the Predator 50RX stump grinder small enough to get into those tight places a BobCat cannot. If your interested we have put up some information about the Predator 50RX at the bottom of this page so you can see how versatile it is. No write up is complete without pictures so there is also a Predator Gallery you can have look at.
Stump Grinding and Related Services
Here at John Baird Contractors we offer all manor of Tree Services but when it comes to Stump Grinding we can:
Get in to small gardens and tight spots with the Predator 50RX
Handle

all sizes

of tree stump
We can fell the tree before we get to the stump
Dispose of all waste after the job
Professionally remove the stump and leave the ground as if the stump was never there
Get the job done quickly because we use machines
Predator 50RX
Predator offer a wide range of tree stump grinders from wheeled and tracked to PTO and attachments.
We make the narrowest stump grinders on the market for their power output.
We are regularly updating our models to incorporate our latest technological developments and to ensure that we're at the top of our game.
We design our machines from an operators perspective and draw upon many years of experience in the field to get it right. This ensures that when purchasing a Predator, you're not only buying a quality machine but you're also investing in a cost effective tree stump grinding solution that will help your profitability in many ways.
Our machines have clean designs that break the mold in performance, style,reliability and compactness, really making the job easier than it has ever been
The Predator50RX is without doubt the most versatile Stump Grinder about. It is the only large,50 HP machine on the market that can get in anywhere. It's variable width track base travels from31 inchesto47at the touch of a button, allowing a big machine to fit through a gateway narrower than three feet with ease.
As standard, a high performance, incredibly compact, powerful and great looking radio controlled Stump Grinder but just as easily with our rear PTO, a Dozer, Tow Vehicle, Mulcher, Flail or Powerpack, anywhere you want.
We use the fully proportional, highly accurate and incredibly reliable Scanreco G2B radio control system. This is commonly found on cranes, it allows the operator to have the feel and control of a hydraulic lever, whilst having the flexibility and vision of a remote operator.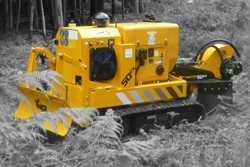 Whatever your requirements, a machine that can cut effortlessly to a depth of fifteen inches with a swing of sixty, fit through such a narrow gap, doesn't have a belt or clutch in sight, looks as good and works as well as the Predator50RXhas got to be worth checking out....
Information Courtesy of Predator